People build expensive kitchens for a wide variety of reasons ranging from personal preference to practicality. For many people, their kitchen is a sacred place and it is considered the heart of their home hence the reason why many invest a lot of money in their kitchen.
Having an expensive and luxurious kitchen is about showing off your wealth and status. Many people invest in an expensive kitchen because it adds value to their home. Here are some of the most expensive and luxurious kitchens in the world.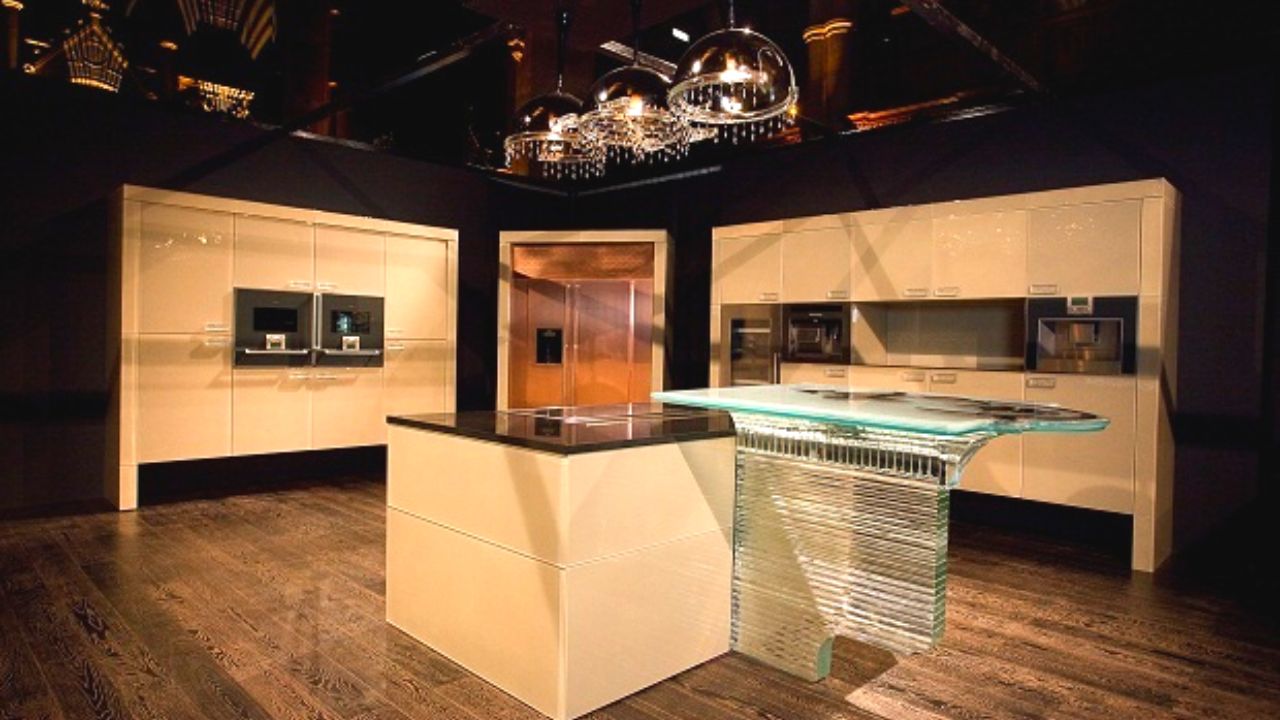 Carlton House Penthouse Kitchen
There is a lot of kitchen in the world that offers modern appliances made from exquisite materials thus making them expensive. But, there is also a highly-exclusive kitchen that takes it up a notch and makes it even more luxurious.
Found in the heart of London, the Carlton House Penthouse Kitchen is one of the most expensive kitchens ever built. It is close in proximity to Buckingham Palace and other important landmarks in the country. The kitchen has two chefs that provide a wide variety of delectable cuisine for the guests.
What truly makes the kitchen expensive is how it is designed. The kitchen is composed of modern appliances and offers some of the most practical architecture in the world making it one of the most functional modern kitchens as well. Overall, this modern kitchen costs up to $297,000 to build.
Steven Klar's Kitchen
Steven Klar's Kitchen is one of the most expensive kitchens in the world. It is a custom-made kitchen created by its owner Steven Klar and includes modern materials, appliances, cabinetry, countertops, and many other fixtures.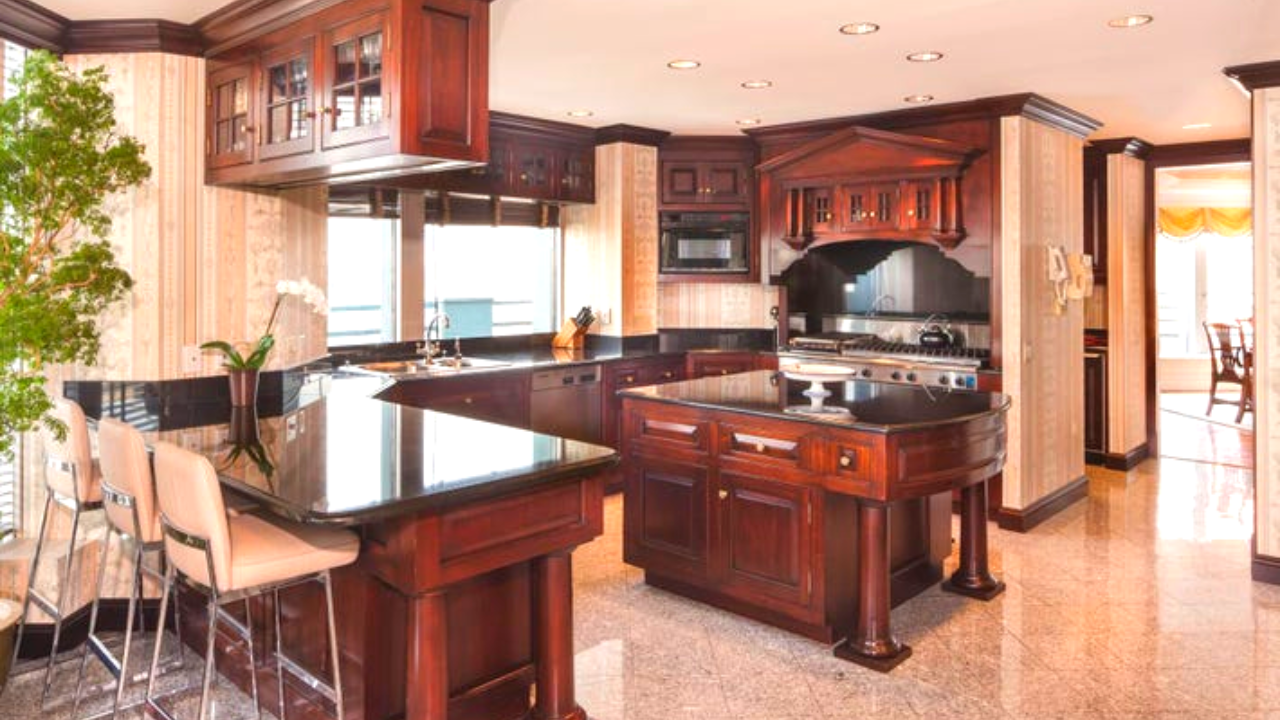 The kitchen has a contemporary design with sleek lines and exquisite craftsmanship. Many of the kitchen's components include Wolf ovens, Sub Zero refrigerators, and custom cabinets made from exotic wood like mahogany and walnut and marble or granite countertops. The kitchen is also riddled with designer furniture pieces and even has built-in sound systems.
Steven Klar's Kitchen costs up to $325,000 which makes it one of the most expensive and luxurious kitchens in the world. It has become one of the most expensive since it is handcrafted using only the highest quality materials available on the market today. Every detail is considered during production to ensure that each piece fits perfectly within the kitchen space.
Manhattan's Puck Penthouse Kitchen
Designed by renowned architect Daniel Romualdez who worked for celebrity chef Wolfgang Puck, Manhattan's Puck Penthouse Kitchen offers a stunningly beautiful and functional space.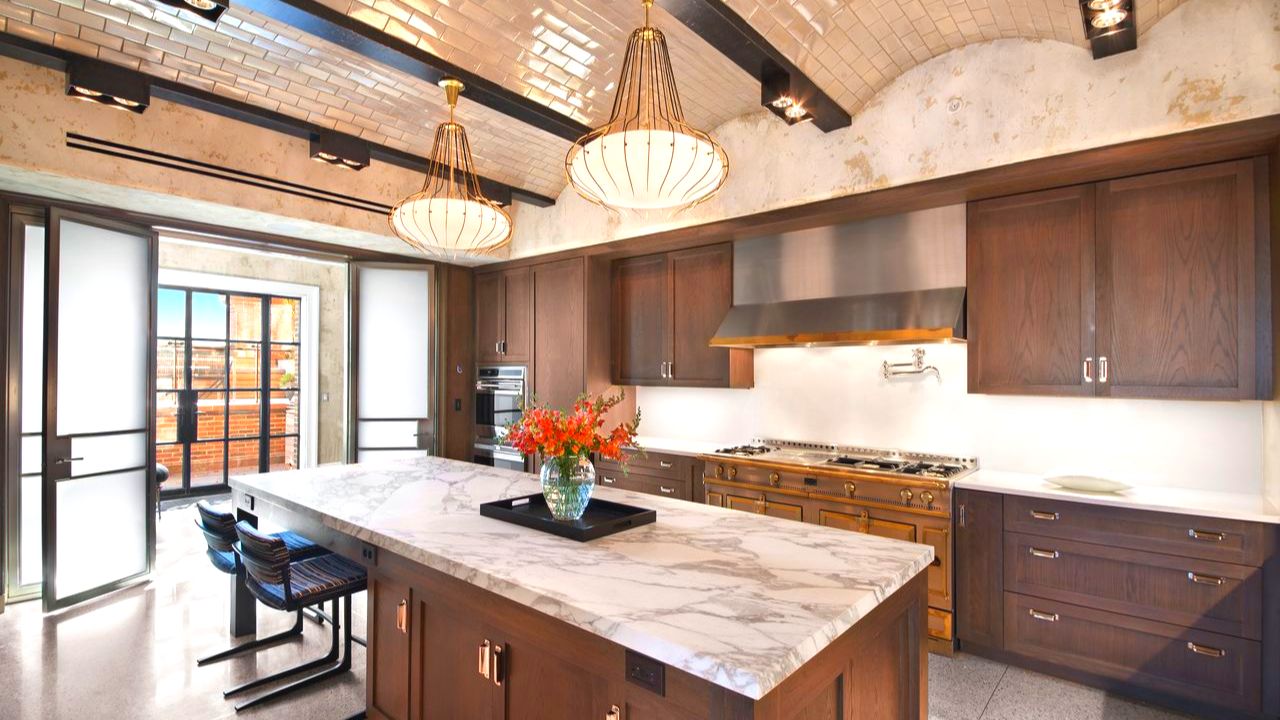 At the heart of the kitchen is the custom-made handcrafted cabinetry which is made from African mahogany and ebony wood. The cabinets have intricate details such as hand-cut glass panels and hand-forged hardware. The counters are made from marble, onyx, granite, quartzite, and soapstone.
The appliances in the kitchen are also very modern which include SubZero refrigerators and freezers, Viking ranges, Bosch dishwashers, Miele ovens, Wolf steamers, Thermador warming drawers, Breville juicers, and many more. The entire kitchen costs around $360,000 to make which makes it not only the most luxurious kitchen but functional as well.
Electrolux Grand Cuisine Professional Kitchen
The Electrolux Grand Cuisine Professional Kitchen is the perfect example of a functional but luxurious kitchen. It is an ultra-modern kitchen that combines high-end technology with sophisticated design. The Electrolux Grand Cuisine Professional Kitchen is designed to make cooking easier, faster, and more enjoyable.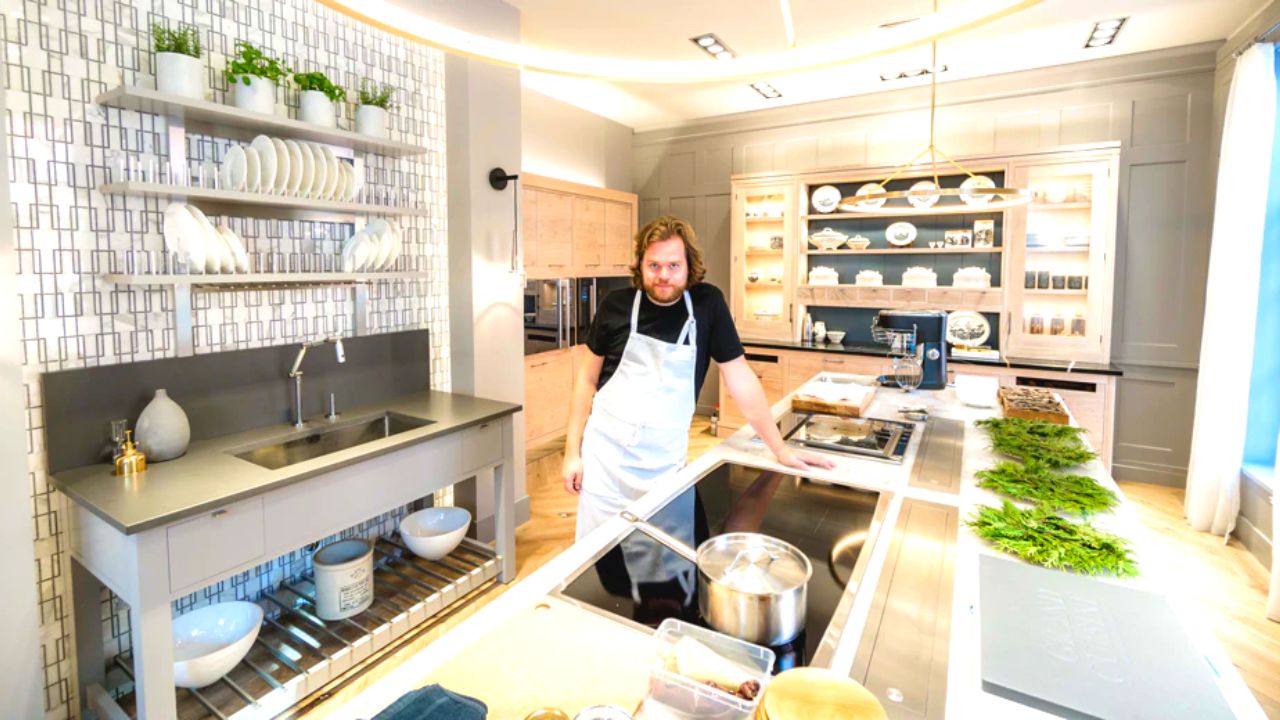 The Electrolux Grand Cuisine Professional Kitchen features top-of-the-line appliances from Electrolux which includes ovens, cooktops, dishwashers, refrigerators, and other built-in appliances. It also includes advanced features like temperature control for all appliances, LED lighting for optimal visibility, and a built-in water filtration system that provides clean water at all times.
The cost of the Electrolux Grand Cuisine Professional Kitchen has reached up to $380,000 and is considered one of the most practical kitchens in the world as well. Its combination of luxury design elements and the latest technology makes it one of the most expensive kitchens in the world.
Colosseo Oro
The Colosseo Oro is one of the most luxurious kitchens in the world. It is made by Marazzi Design, a London-based company that specializes in creating custom kitchens. It is composed of a combination of stainless steel, glass, and wood and is often considered one of the most expensive kitchens Marazzi Design has to offer.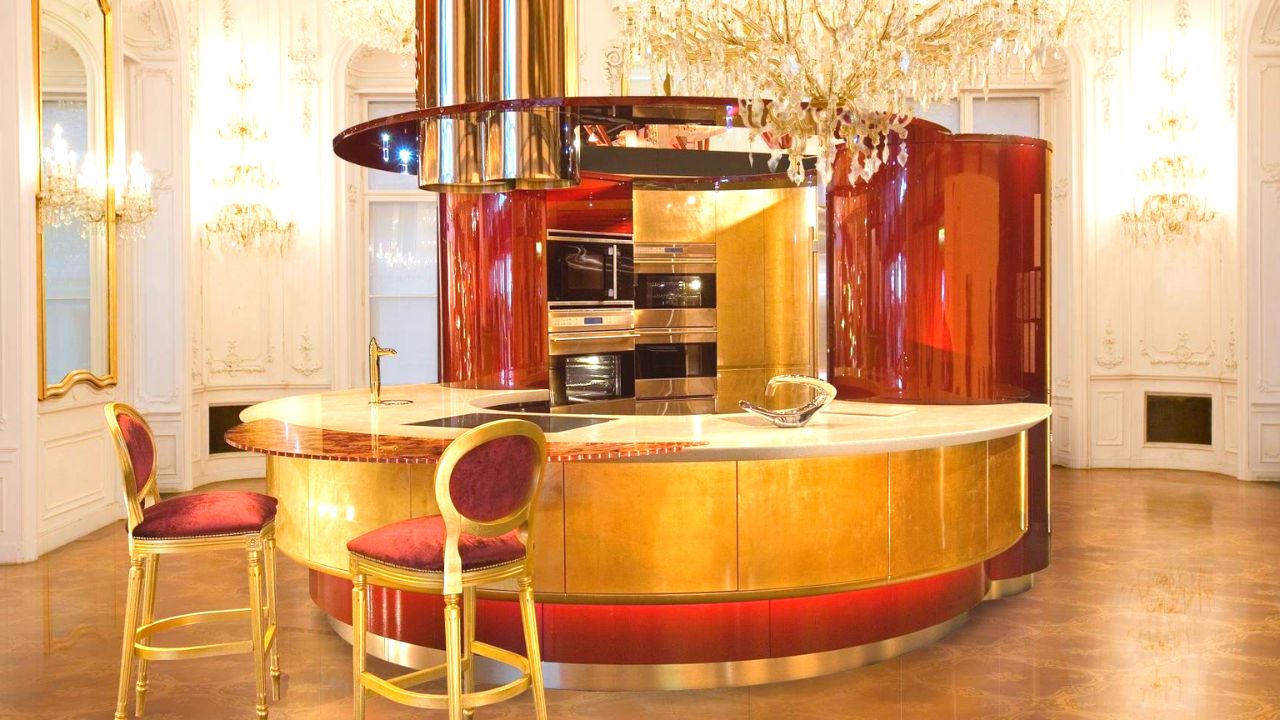 The Colosseo Oro has different components which include a large cooking island that integrates a sink, induction hob, and a lot of storage space. There are also cupboards where you can store all of your kitchen tools and smaller appliances. The island features an integrated wine cooler and built-in ovens.
The cost of the Colosseo Oro is estimated to reach up to $456,000 with the appliances alone costing more than $83,000. Many of the appliances include SubZero and Wolf products. The kitchen's components including the mirrored steel, max-fired oven hood costs around $12,000 alongside its many luxurious finishing.
Fiore di Cristallo
Fiore di Cristallo is the most expensive kitchen in the world costing over $1.6 million to build. Designed by Claudio Celiberti, it took over 12 months to create and build this very expensive kitchen which pushed the boundaries of what was supposed to be impossible.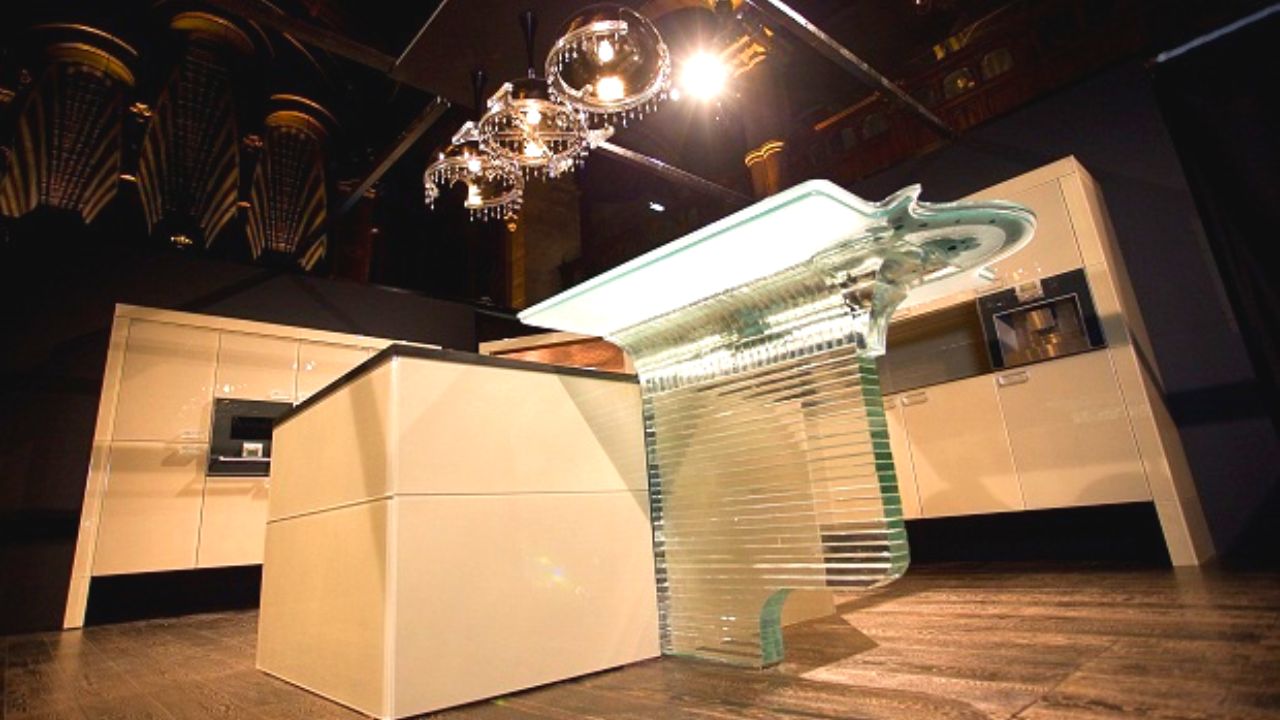 This luxurious kitchen was handcrafted in Italy using ancient methods that originated from the island of Murano. The kitchen features the popular Cristallo di Murano or the Crystal of Murano which is a high-quality crystal that is free from air bubbles and impurities. The kitchen includes cupboards with copper lining which is known for its antimicrobial properties.
At the center of the kitchen lies an elegant Swarovski Crystal and Crystal di Murano chandelier which costs more than $30,000 to handcraft. The appliances are from a known German specialist company Gaggenau that has revolutionized kitchen appliances over 300 years.
Conclusion
A modern kitchen can be very expensive to build but they are also great investments that add value to your home. It provides a luxurious space to cook and entertain your guests. This is why many of the people who own this expensive and luxurious kitchen did not make any hesitation in regards to build a highly modern and functional kitchen.